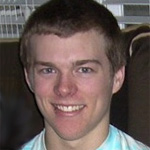 Gavin Forrest [Past Member]
Bass / Percussion
Nickname(s): Gavin
pgforres@ncsu.edu
Year Joined: 2010
Year Left: 2010
Major(s): Undecided
Minor(s): Undecided
Graduated: 2013
Chinese Zodiac: Goat
Hometown: Goldsboro, NC
Favorite Disney Movie: Emperor's New Groove
Favorite Video Game: World of Warcraft
What you do when not singing with Wolfgang: Stuff such as: playing drums, playing soccer, fingerstyle guitar, eating jujubees, watching awesome movies, going to the moon.
Favorite Quote: "I have many leather bound books, and.... my apartment.. smells of... rich mahogany. I'm friends with Merlin Olsen, he---comes over.... on occasion.."