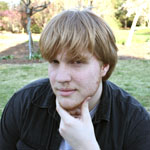 John Hanna Assistant Director
Tenor / Percussion
jdhanna@ncsu.edu
Year Joined: 2008
Major(s): Math, Physics
Minor(s): Economics
Graduated: 2012
Zodiac: Pisces
Chinese Zodiac: Horse
Hometown: New Jersey
Favorite Video Game: Left 4 Dead 2
What you do when not singing with Wolfgang: Planning to sing with Wolfgang. Thinking about singing with Wolfgang. A bunch of other nerdy stuff.
Favorite Quote: "I like deadlines. I like the whooshing sound they make as they fly by."
-Douglas Adams
"If you aren't prepared to look stupid, then nothing great is ever going to happen."