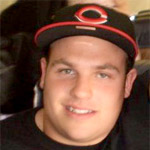 JP Hillard [Past Member]
Bass / Percussion
Nickname(s): Tha Jynx
jphcomet63@gmail.com
Year Joined: 2010
Year Left: 2011
Major(s): management undeclared
Graduated: 2014
Chinese Zodiac: Goat
Hometown: Clayton NC
Pets: Cat- Rose
Favorite Disney Movie: Cool Runnings
Favorite Video Game: Call of Duty
What you do when not singing with Wolfgang: I do me!!!

I love sports, music, and Jesus. I work at Smithfields Chicken and BBQ. I love watching football and going to Hockey games. My favorite teams are the CAROLINA HURRICANES, San Diego Chargers, and Denver Nuggets.
Favorite Quote: "I eat the red crayons, bc the red ones taste the best"

"I gots me a water spooooooon"