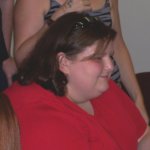 Kristen Clyburn [Past Member]
Alto / Percussion
Nickname(s): K-Rizzle / Wheezer
Year Joined: 2003
Year Left: 2008
Major(s): Microbiology
Graduated: 2005
Zodiac: Sagittarius
Chinese Zodiac: Dog
Hometown: Charlotte, NC
Pets: Scotty-Doo (Scottish Terrier) ; Tokolosh (English Bull Terrier)
Favorite Disney Movie: Lion King
Favorite Video Game: The Original Super Mario Bros.
What you do when not singing with Wolfgang: Umm, when I donít sing with Wolfgang?! Work, spend time with friends, and my dogs and Mu Beta Psi.
Favorite Quote: Live free, die hard, and always keep your mask on!